Contact Relationship Management


(CRM)
...the Bluesoft way
The Problem...
96% of companies asked admit to having incomplete, duplicate or incorrect data relating to their customers, prospects and contacts.

Source: 'Miraquel Partners' CRM software survey 2001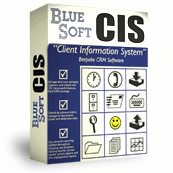 The Solution...
The solution is Bluesoft CIS, advanced contact management software, for small businesses to large corporates.
If you have customers and contacts, you need Bluesoft CIS.
Save Money!
Save money by managing existing customers. Know how to accurately target each existing customer for cross-selling and up-selling. Each new prospect costs money to find. So repeat business from existing customers is far more profitable than new business from new customers. With CIS You can manage existing customers efficiently and accurately.
Save money by ensuring that contacts are not duplicated in your database. CIS will actively help avoid duplicate contact records saving you money in mail shots and telesales.
Save Time!
Sales reps can have access to essential business and contact data from anywhere in the world from computers, PDAs and mobile telephones. No longer do remote staff have to visit the office just to give or receive data or documents.
Before visiting a client, print an activity report and be up to speed in minutes. This will save hours of trawling through old emails and notes.
Client time sheets, weekly and monthly reports are all generated in seconds. The chore of keeping time sheets becomes a breeze with CIS, and if a client asks for an progress report, it is there straight away.
Be Informed!
See at a glance which projects are running under budget, and which are running over budget.
See which of your sales team are the most efficient. Know everything that your sales team are doing.
Management information is readily available from CIS. Keep your finger on the pulse! Even when travelling abroad or working from home you can access this information.
See the big picture, or see the finer detail. You can do both with CIS.
Be Organised!
Email is now the most common form of communication. Use CIS to manage all incoming and outgoing emails and email attachments.
Documents are automatically filed and referenced. Never lose a document again.
Keep Your Identity!
Keep your company image or corporate identity, by being consistent with all outgoing correspondance. CIS allows all members of staff to easily use the same templates for letters, emails, faxes.
Access Company Information From Anywhere!
The following diagram is to help demonstrate some of the methods of accessing your important company information from anywhere in the world, at any time.
Keeping your information secure is a priority when remotely accessing company data, and Bluesoft can recommend the safest methods for your requirement.