Welcome to Bluesoft!
Bluesoft provides the tools and services that you need to exploit Information Technology and the Internet.
Among the many tools and services we offer are:
| | |
| --- | --- |
| | Website design and overhauling. |
| | Company-wide information management software. |
| | IT and Internet training for all levels of expertise. |
| | Custom-written software for Internet, intranet, client/server and desktop use. |
| | IT Strategy consulting. |
Bluesoft has been established for over 20 years. This time has seen vast changes in technology, but Bluesoft's understanding of business needs has ensured the enduring success of our systems.
[Oracle Alliance Partner] [Business Link Select Assured] [Worldpay Affiliate Partner] [Coventry and Warwickshire Chamber Member]
Winner of the 2006 IM Awards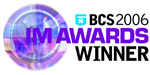 European Awards: CRM Winner
European Awards: GIS Winner

The British Computer Society awards are the premier European recognition of excellence and innovation.
They showcase organisations who have demonstrated the vision and business skills to implement highly successful projects utilising leading-edge IT and business technologies.
Readme.txt
Property Searches:
Official Searches Online
Quickly and easily order official searches for any Local Authority in England and Wales.
No more filling out the LLC1 and CON29R forms, writing cheques to each council etc.
more...
your own hub
Efficiently operate your own hub to order and fulfill official searches.
Easy to use, automated, scalable and integrated.
more...
50% EU Funding
The EU may fund up to 50% of the cost of IT projects in small-medium enterprises. Only selected suppliers qualify for funding ... and Bluesoft is one of the chosen few! From a simple website, to a brand new Internet venture, to company information management, your company can reap the benefits of the Information Revolution - at half the cost. Learn more...
FAQ: "Do I really need to change?"
Yes! More than ever, IT affects business at all levels. Even low-tech industries require an understanding of the issues involved before they can compete in the new, hi-tech business world.
There is no one-size-fits-all solution. Simply establishing a company website or having a computer on the desk is not enough. Each must respond to the opportunities and challenges posed in a unique way.
Bluesoft will ensure that you use IT and the Internet in the best way for your company, laying a solid foundation that will secure your company's strategy well into the future.